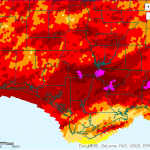 April was a wetter than average month in most locations across the Panhandle, but nothing like the April rains of 2014 and 15.  There were a few pockets in hot pink that had over 10″ of rainfall for the month while portions of Gulf and Franklin received less than 4″ along the Gulf Coast. The majority of the Panhandle ranged from 4-8″ for the month.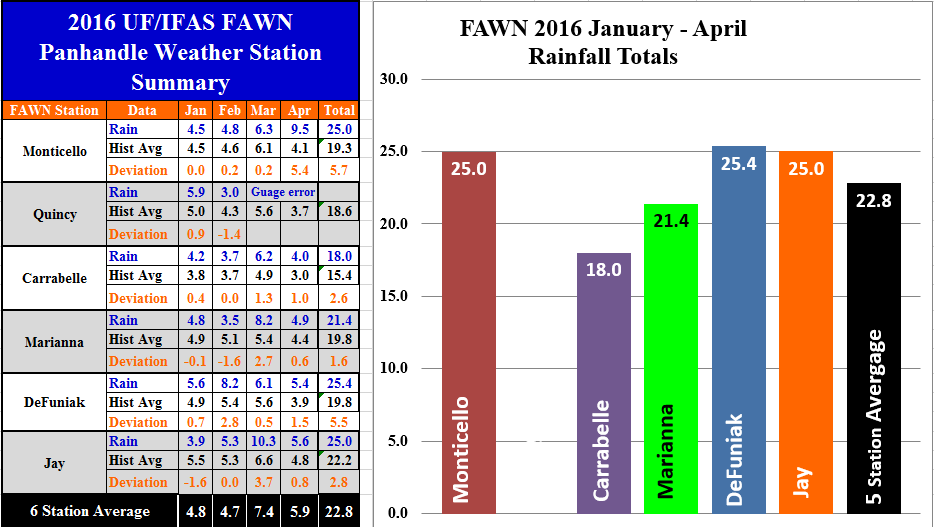 The five Florida Automated Weather Network (FAWN) stations also showed some variation for the month of April.  The Quincy Station gauge had an error for the months of March and April, so a total for this site cannot be provided.  The average of the other five FAWN stations was 5.9″.  While all five locations were above historic averages, the month was much more normal that the previous two years with 8.1″ in April 2015, and 13.5″ in 2014.  Through the first four months of 2016 there were three sites that totaled over 25″ – Monticello, DeFuniak, and Jay.  In comparison, the Carrabelle station has only recorded 18″ in 2016.  The difference this year is the moisture that came at the end of 2015.  The actual rainfall that fell in 2016 was not that far above normal, but it fell on already moist to saturated soils that are now beginning to dry out again with typical May warm temperatures and high pressure systems limiting rainfall.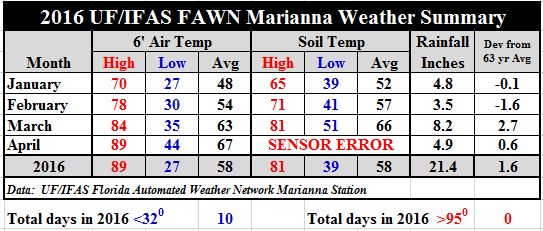 Temperatures did warm up considerably in April.  The average air temperature climbed up another four degrees for the month.  Unfortunately the soil sensor at Marianna went bad, so there is not an accurate measure of the increase there, but for sure it was warmer than the previous three months.
May – July Outlook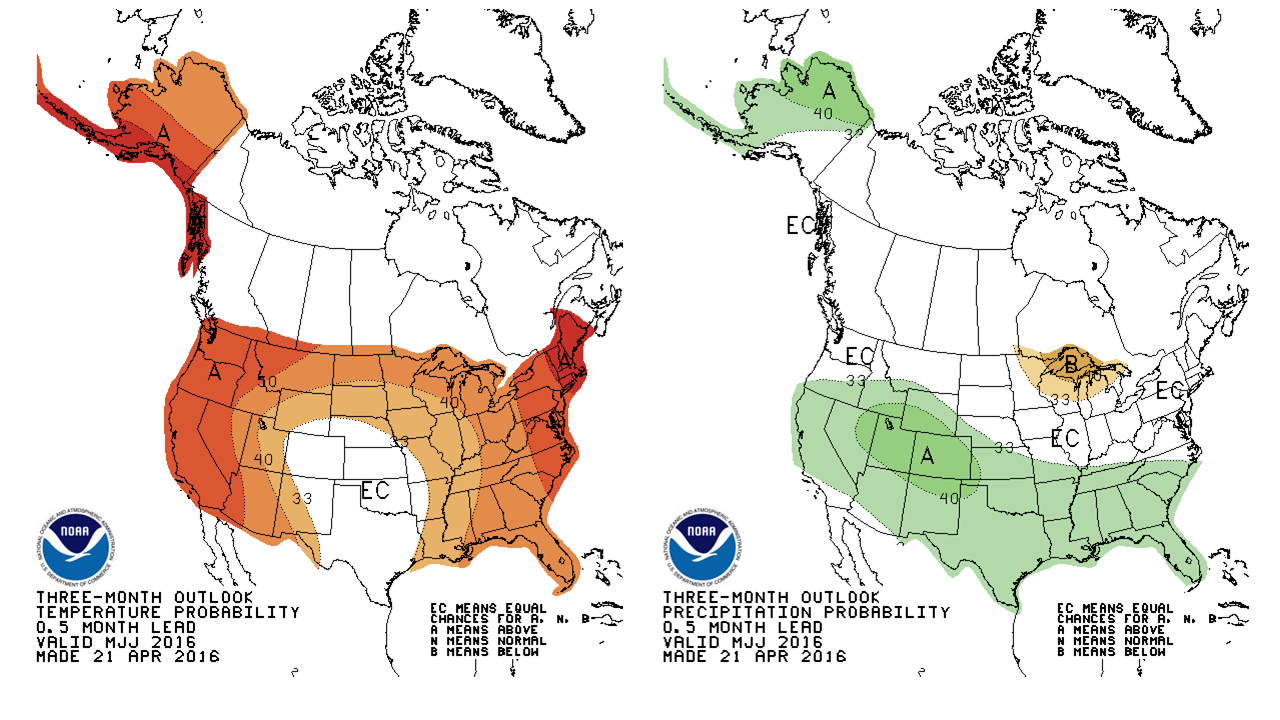 The outlook for the next three months, May-July, from the Climate Prediction Center is forecasting above average temperatures and rainfall.  With much of the region in the middle of peanut and cotton planting, this forecast is good news.  If the rainfall continues on a regular basis, these crops should get off to a nice start for the season.  Hopefully it won't heat up too much, and dry out the moisture that has built up all winter.
El Niño Update
Not much has changed with the El Niño forecast.  True to expectations sea surface temperatures continued a slow cooling toward normal in April, but are still warm enough to drive the above outlook with above average rainfall as we finish out the Spring.
During mid-April 2016 the positive tropical Pacific sea surface temperature (SST) anomaly was weakening, now indicating only a moderate strength El Niño. All atmospheric variables continue to support the El Niño pattern, but at reduced strength. This includes weakened trade winds and excess rainfall in the east-central tropical Pacific, extending eastward to a lesser extent than last month. Most ENSO prediction models indicate continued weakening El Niño conditions during the rest of the northern spring season, returning to neutral by late spring or early summer 2016, with La Niña development likely by fall. – International Research Institute for Climate and Society