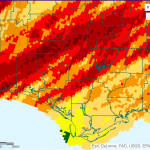 February 2016
The National Weather Service estimated that rainfall ranged from  10″ to as little as 2″ in February across the Florida Panhandle.  The dark red portions of the map received between 8-10″ and the light tan and yellow areas only 2-4″.  The map clearly shows where the heavy bands of rain moved up from the Gulf during the recent major front, but it was not uniform at all.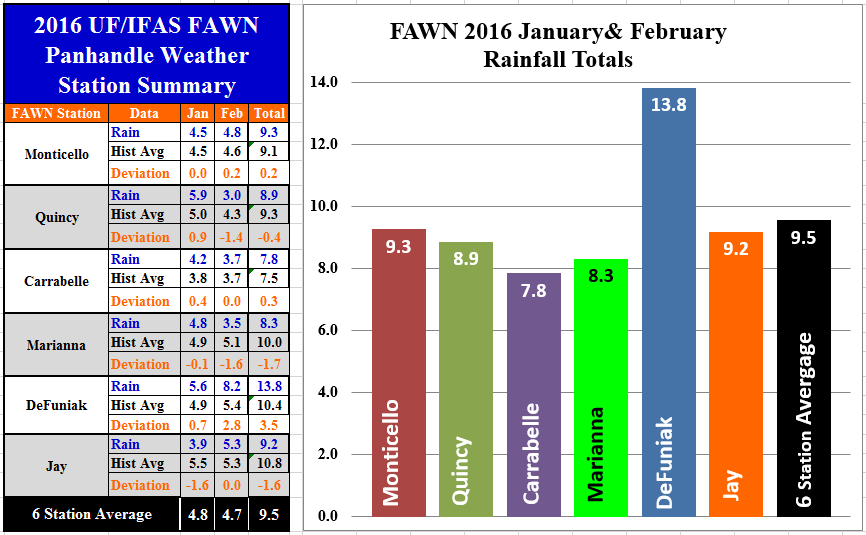 The six Florida Automated Weather Network (FAWN) stations across the Panhandle also showed considerable variation.  The Quincy station was the driest location registering only 3″ while the DeFuniak Station recorded 8.2″.  Through the first two months of the 2016, the DeFuniak Station recorded 13.8″ in contrast to Carrabelle with only 7.8″.  Six of the stations recorded above average rainfall and three were below average through the first two months.

Temperature wise, the first two months were pretty mild, with only 10 days with lows below freezing and minimum temperature of only 27°.  In February average air temperatures climbed 6° compared to January and the soil warmed up 5°.
Looking Ahead
The Climate Predication Center's outlook for the next three months is still calling for above average rainfall, especially in March.  The above chart shows the March (left) and the March through May Outlook (right).  If their forecast holds true there should be good moisture for planting, but hopefully not excessive moisture to create delays like last season.  March is typically one of the wettest months of the year, so if there is too much rain, river flooding may be an issue to keep an eye on.
El Niño Update
El Niño appears to be losing it's influence, so more normal conditions are expected in the near future.  The Climate Predication Center (CPC) is forecasting a transition to ENSO-neutral (normal) during late spring or early summer 2016, with a possible transition to La Niña conditions during the fall.  The last major El Niño in 1998 went from a wet spring to a very dry summer with wildfires across Florida, but that has not always been the case with "Super" El Niños.  Let's hope things just get back to normal and stay there. 
The following is the latest El Niño update from the CPC:

Most models indicate that El Niño will weaken, with a transition to ENSO-neutral during the late spring or early summer 2016. Thereafter, the chance of La Niña conditions increases into the fall. While there is both model and physical support for La Niña following strong El Niño, considerable uncertainty remains. A transition to ENSO-neutral is likely during late Northern Hemisphere spring or early summer 2016, with a possible transition to La Niña conditions during the fall.

El Niño has already produced significant global impacts and is expected to affect temperature and precipitation patterns across the United States during the upcoming months. The seasonal outlooks for February – April indicate an increased likelihood of above-median precipitation across the southern tier of the United States, and below-median precipitation over the northern tier. Above-average temperatures are favored in the North and West, and below-average temperatures are favored in the southern Plains and along the Gulf Coast.  Climate Predication Center